Finger Focus allows you to create blur effects on your photos just by tracing your finger through the photo.
Even if you roughly trace over the photo to apply the blur effect, the border of the effect will be automatically corrected, and the app will easily give a natural photo effect.
You can seamlessly zoom in or out from a photo in pixel units with pinching gesture (using two fingers), which can make even a complex object in perfect focus.
The result can be checked by tracing over the screen.






» Finger Tips

» Processing Tips
Adjust the border between the sharp and blurred areas by using the BORDER slider.
If you want to get an image like a portrait or still-life objects in focus, slide the slider to the left, then find the best focus point as gradually sliding it back to the right.


When you use the blur effect to the Ambiguous range such as a landscape photo, slide the slider to the right and extend the blurred area. This way you can create a more natural looking.

English | Japanease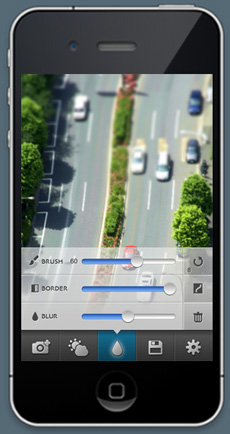 » Other iPhone Apps
・ InstantCamera
・ myFilm
・ FastMemo
・ GongTimer
・ AnalogClock